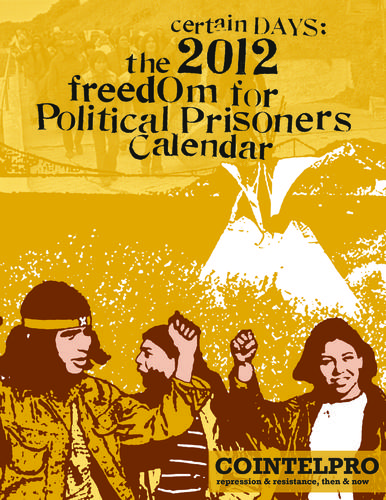 42 GORGEOUS FULL-COLOUR PAGES OF ART AND WRITINGS! A GREAT FUNDRAISER FOR GROUPS, AN IMPORTANT CONTRIBUTION TO GRASSROOTS ORGANIZING, AND A MEANINGFUL GIFT!
Join us on Facebook and help spread the word.
Featuring amazing artwork and writings from Aric McBay, The Coalition Against Israeli Apartheid, Claude Marks, David Gilbert, The Denver Anarchist Black Cross, Emily Kantar, Favianna Rodriguez, Fireworks Graphic Collective, Gerald and Maas, Herman Bell, Jesus Barraza, Jihad Abdulmumit, Josh MacPhee, Kara Sievewright, Kevin 'Rashid' Johnson, Lynne Stewart, Ojore Lutalo, We Are The Crisis Collective, the RNC 8, Safiya Bukhari, Santiago Armengod, Shannon Willmott, Supporters of John Graham, Tim Groves and Tom Manning.
The term COINTELPRO has become synonymous with the 'tricks of the trade' of state repression: surveillance of organizations and individuals, the use of infiltrators and informants, frame-ups, harassing or disproportionate use of the legal system, and outright physical attacks.
While the term is widely used to describe repression of liberation movements, at least in North America, the history of the actual COINTELPRO program – its details and the lessons to be learned from it – remain
relatively unknown.
Recently, we have witnessed growing awareness of state repression of radical organizing in North America, although it is difficult to judge to what extent repression is actually increasing, and to what extent this reflects the success of the work to expose it. Certainly since September 11, 2001, the state has new tools – and new social license – to go after social movements and marginalized sectors of the population alike, perhaps comparable to the Red Scare climate of the 1950s, when COINTELPRO was
conceived of.
In some ways, this is to be expected. Effective movements beget repression. That being said, resisting this backlash – directly fighting back (rhetorically, legally, physically, but also via a more general
resilience) – is fundamental to the survival of liberation movements.
In the wake of the repression associated with the summer 2010 G20 meeting Toronto, with several cases of infiltration in both the US and Canada coming to light in recent years, and with ongoing legislative changes giving government increasing power to surveil and disrupt us, the time seemed ripe to remind ourselves of the legacy of COINTELPRO, and resistance to it.
In putting together the Certain Days calendar, we always aim for a realistic balance between bringing to light social injustice and the challenges we face, and the inspiring work done to meet these challenges.
It is important to speak of repression – to share examples so that we might learn from each others' experiences, and see the patterns and trends in the state's approach. But it is impossible to do so without also being struck by the many contemporary and historical examples of resistance. We hope that the information gathered in this year's calendar can help teach the difficult lessons we need to learn to weather the storm and also provide the inspiration we need to do so.