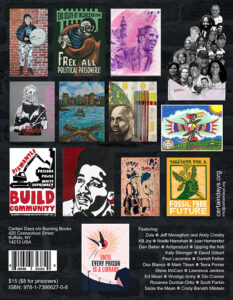 Online
In the U.S., order from Burning Books
You can also buy them from AK Press or Just Seeds.
In Canada, order 1-9 copies from Left Wing Books.
In Canada, order 10 or more copies here (and raise funds for your own organizations and projects!
Order for a prisoner
Stores
Please call or email before going to make sure they have calendars!
Another Story
315 Roncesvalles Ave.
Toronto, Ontario, M6R 2M6, Canada
(416) 462-1104
books@anotherstory.ca
The Big Idea
4812 Liberty Avenue, Pittsburgh, PA 15224 &
460 Melwood Avenue, Pittsburgh, PA 15213
(412) 687-4323
thebigidea@gmail.com
Binnacle Books
321 Main Street
Beacon, NY 12508
(845) 838-6191
info@binnaclebooks.com
Bluestockings Books
116 Suffolk Street
New York, NY 10002
(917) 409-0440
Bookspace Columbus
200 Crestview Road
Columbus, OH 43202
bookspacecolumbus@gmail.com
Burning Books
420 Connecticut Street
Buffalo, NY 14213
(716) 881-0791
2620 Quadra Street Victoria, BC,V8T 4E4
Unceded Lekwungen Territory
(250)381-0585
Freebird Books
123 Columbia Street
Brooklyn, NY 11231
(718) 643-8484
info@freebirdbooks.com
Left Bank Books
92 Pike Street, #B
Seattle, WA 98101
(206) 622-0195
Leftbank@leftbankbooks.com
Little Read Books
Our weekly free book distro is at Grant and Colfax in Denver every Saturday weather permits from 11am to 3pm
info@littlereadbooks.org
Lucy Parsons Center
358a Centre Street
Boston, MA 02130
(617) 522-6098
lucyparsons.center@protonmail.com
Making Worlds Bookstore & Social Center
210 South 45th Street
Philadelphia PA 19104
info@makingworldsbooks.org
Mayday Books
301 Cedar Avenue
Minneapolis, MN 55454
(612) 333-4719
MAYDAYBOOKSTORE@GMAIL.COM
Monkeywrench Books
110 North Loop Boulevard E
Austin, TX 78751
(512)766 -6925
contact@monkeywrenchbooks.org
Moon Palace Books
3032 Minnehaha Avenue
Minneapolis, MN 55406
(612) 454-0455
info@moonpalacebooks.com
Octopus Books
116 Third Avenue
Ottawa, ON K1S 2K1
Canada
(613) 233-2589
octopus@octopusbooks.ca
Pilsen Community Books
1102 W 18th St
Chicago IL, 60608
(312) 478-9434
bookspilsen@gmail.com
Quimby's NYC
536 Metropolitan Avenue
Brooklyn, NY 11211
(718) 384-1215
quimbysbookstorenyc@gmail.com
Red Emma's Bookstore Coffeehouse
1225 Cathedral Street
Baltimore, MD 21201
(410)601-3072
info@redemmas.org
Riot Act Books
127 Main Street
Binghamton, NY 13905
riotactbing@protonmail.com
Small Friend Records & Books
1 N. Lombardy Street
Richmond, VA 23220
(804) 353-1320
info@smallfriend.org
Spartacus Books
101-1983 Commercial Drive
Vancouver, BC V5N 4A8
(604) 688-6138
info@spartacusbooks.net
Topos Books
788 Woodward Avenue
Ridegwood, NY 11385
(347) 927-5680
toposbookstore@gmail.com
Women & Children First
5233 N. Clark Street
Chicago, IL 60640
(773) 769-9299
wcfbooks@gmail.com
Wooden Shoe Books and Records
704 South Street
Philadelphia, PA 19147
(215) 413-0999
sabot@woodenshoebooks.com
The Word is Change
368 Tompkins Avenue
Brooklyn, NY 11216
(347) 441-0048
info@thewordischange.com