Coming soon: Knitting Together the Struggles
Follow us on Facebook and Twitter for updates about the 2020 Certain Days: Freedom for Political Prisoners Calendar!
Tributes to Tom Manning – from Ray Luc Levasseur, Jaan Laaman, Bill Dunne, Oso Blanco and more

Tom was imprisoned at USP-Hazelton, WV at the time of his death. The ostensible cause of death, according to the Federal Bureau of Prisons, was a heart attack.
I received Tom's last letter on July 15. He wrote that he was in dire circumstances, his medical needs treated with deliberate indifference, delays in receiving necessary medication, his body weak from lack of oxygen. Supporters scrambled to get a lawyer in to see him, but death arrived first. [Read more]
How to Write U.S. Political Prisoners
An awesome short video by Burning Books and Page One collective about the history of the Anarchist Black Cross and how to write political prisoners.
Certain Days 2019: Health/Care
Discounted! Now $10 per copy, or $8 per each for orders of 10 or more. Order!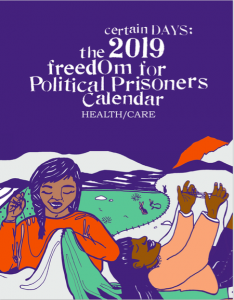 ABOUT THE CALENDAR
The Certain Days: Freedom for Political Prisoners Calendar is a joint fundraising and educational project between outside organizers in Montreal, Hamilton, New York and Baltimore, with two political prisoners being held in maximum-security prisons in New York State: David Gilbert and Robert Seth Hayes. The initial project was suggested by Herman Bell, and has been shaped throughout the process by all of our ideas, discussions, and analysis. All of the members of the outside collective are involved in day-to-day organizing work other than the calendar, on issues ranging from refugee and immigrant solidarity to community media to prisoner justice. We work from an anti-imperialist, anti-racist, anti-capitalist, feminist, queer and trans positive position.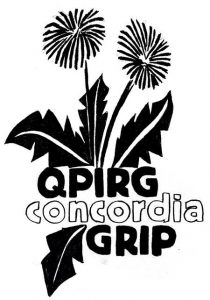 Certain Days – a QPIRG Concordia working group
QPIRG Concordia
1500 de Maisonneuve Ouest, Suite 204
514-848-7583 fax: 514-848-7584
qpirgconcordia.org – info @ qpirgconcordia.org