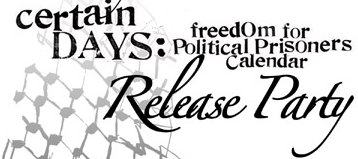 NYC Release Party for
Certain Days: the 2007 Freedom for Political Prisoners Calendar
Saturday, November 11th in NYC
Print invitations (PDF)
---
Thank you!
Thank you so much to the incredible host committee and helpers who made the 11/11/06 event such a success! Thanks to Mickey, Will, Ananda, KayCee, Jey, Kate, Em, Jamie, Sonja, Dean, Sonny, Cindra, Franklin, Chelsea, Cayden, Craig, and Allison! Thank you to all who attended the event and supported the Certain Days project!
---
Please mark your calendars and join us on November 11th for the 2007 Certain Days release party in Brooklyn, NY. Mix and mingle with old and new friends, shake it on the dancefloor, and learn more about the organizations that Certain Days benefits this year: The New York State Task Force on Political Prisoners, No One Is Illegal-Kingston, and Addameer, a Palestinian prisoner solidarity group.
The release party is also your chance to purchase copies of the 2007 Certain Days wall calendar. Like every year, the 2007 calendar features 12 amazing pages of beautiful full-color artwork, as well as over a dozen pages of writing created by and about former and current political prisoners and prisoners of war.
Saturday, November 11th
8pm – 2am
136 Cambridge Place #1, Brooklyn, NY (street map) (subway map)
Directions:
C (F) train: The F is running on the C line between Hoyt-Schermerhorn and Euclid, so take the F train to Clinton-Washington. Walk a couple blocks down Fulton away from the clock tower in downtown Brooklyn, take a left on Cambridge Place. (MTA Service Advisory)
G train: Take the G to Clinton-Washington and walk south on Washington (if you come to Dekalb, you have walked the wrong way on Washington), take a left on Gates, and take a right on Cambridge Place.
Print double sided invitations (PDF) and spread the word!
Sliding-scale donation at the door, $15 gets you a copy of Certain Days 2007
Event hosted by Revolting in Pink