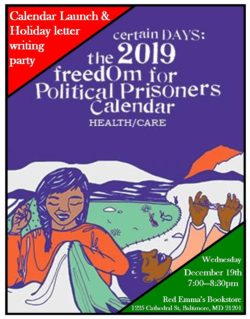 Wednesday, Dec. 19, 7-8:30pm @ Red Emma's Bookstore/Coffeehouse
Baltimore, MD
RSVP on Facebook for this event
Join us for our annual holiday card writing event plus the Certain Days 2019 Calendar launch party! We'll be sending dozens of holiday cards and birthday cards to political prisoners in time for the end of the year – a time of year that can be particularly lonely for those on the inside. Please join us to send some love through the walls.
We're also celebrating the launch of the 2019 Certain Days: Freedom for Political Prisoners Calendar! The calendar is a joint fundraising and educational project between outside organizers in Montreal, Hamilton, New York and Baltimore, in partnership with a political prisoner being held in maximum-security prison in New York State, David Gilbert.
This year's theme is "Health/Care," and features art and writings by David Gilbert, Bec Young, RISE: Radical Indigenous Survivance and Empowerment, Aviva Stahl, Debbie, Mike and Chuck Africa, Roger Peet, Addameer, Leah Jo Carnine, Suzy Subways, Farha Najah, Ashanti Alston, Alec Dunn, Barbara Zeller, Hikaru Ikeda, Giselle Dias, Micah Bazant, Alisha Walker, Fernando Marti, Sins Invalid, Tom Manning, Dave George, Laura Whitehorn, Frizz Kid, Abolitionist Law Center, Cindy Milstein, and more.
The proceeds from the Certain Days 2019 calendar will be divided among these groups: Addameer Prisoner Support and Human Rights Association (Palestine), Release Aging People in Prison (RAPP) and other groups in need.