Please be sure to order below based on your location.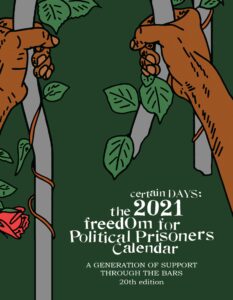 Online
We are happy to announce that sales for the 2021 Certain Days calendar (OUR 20th EDITION) have begun! Order now and calendars will ship soon.
In the U.S., order from Burning Books in Buffalo. (Use the discount code "BULK" to get 10 or more calendars for $10 each)
You can also order from our friends at AK Press and Just Seeds.
In Canada, order 1-9 copies from Left Wing Books.
Order 10 or more copies (and raise funds for your own organizations and projects!) below.
See a list of stores here.