Certain Days 2022: Order Now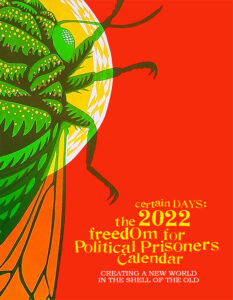 We are happy to announce that sales for the 2022 Certain Days: Freedom for Political Prisoners Calendar (our 21st edition) have begun!
In the U.S., order from Burning Books or AK Press or Just Seeds.
In Canada, order 1-9 copies from Left Wing Books.
Order 10 or more copies (and raise funds for your own organizations and projects!) here. 
Certain Days 2022: Creating a New World in the Shell of the Old
The Certain Days: Freedom for Political Prisoners Calendar is a joint fundraising and educational project between outside organizers in Montreal, Hamilton, New York and Baltimore, with  Xinachtli (s/n Alvaro Luna Hernandez), a political prisoner being held in  Texas. Founding members Herman Bell, Robert Seth Hayes (Rest in Power)  and David Gilbert were  welcomed home from prison in 2018 and 2021.  Learn more about them at certaindays.org.
This  year's theme is "Creating a New World in the Shell of the Old" and features art and writings by Alanna Kibbe, Comrade Z, David Gilbert, Daniel McGowan, Eric King, Hanif Bey, Jesus Barraza, Leila Abdelrazaq, Martha Hennessy, Montclair Mutual Aid, Oso Blanco, Peter Railand, Roger Peet, Shukri Abu-Baker, Tauno Biltsted, Wendy Elsheva Somerson, Windigo Army, Virginia Lee, Xinachtli and Xue.
Proceeds from the Certain Days 2021 calendar were divided amongst Addameer Prisoner Support and Human Rights Association (Palestine), Release Aging People in Prison (RAPP), Barton Prisoner Solidarity (BAPSOP), Tucson Anti-Repression Crew, Austin ABC, Prison Health News, Solidarity Across Borders, Buffalo Books Through Bars and Mongoose Distro! Proceeds from the 2022 calendar will go to some of the same grassroots groups and more.
How to Write U.S. Political Prisoners
An awesome short video by Burning Books and Page One collective about the history of the Anarchist Black Cross and how to write political prisoners.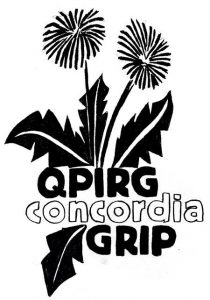 Certain Days – a QPIRG Concordia working group
QPIRG Concordia
1500 de Maisonneuve Ouest, Suite 204
514-848-7583 fax: 514-848-7584
qpirgconcordia.org – info @ qpirgconcordia.org